Stand Number: 434F
Photography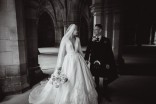 HI, I'm Robert and I work with my sister Lianne. We are Glasgow based, working throughout the UK. We have a no airs and graces approach to our wedding photography. We rely on our friendliness, banter and our compassion to capture candid, genuine emotions, documenting action and creating enigmatic portraits. We create pictures that are captured in the moment, not staged, with group portraits that are full of fun and natural smiles! All the best Robert & Lianne
Fantastic show offer
The NEW NEW 2023 Wedding package! £1245
New from Robert James Smythe Photography
Same Day Previews! They said it couldn't be done.. An edited, on-line gallery ready for you to share, download, print and most importantly, update your Insta Reels and Facebook profile! All this before you have finished the Wedding Breakfast! You'll be crying happy tears over your sticky toffee pudding x Check out the "Recent Work" section of my website to have a nosey at this years "Same Day Previews"
Get in contact with Robert James Smythe Photography
Latest news from Robert James Smythe Photography
No Airs, No Graces, just a relaxed, fun approach to Wedding Photography.