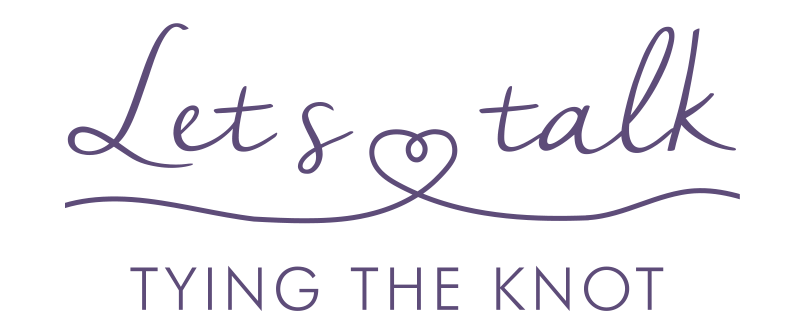 Let's Talk Tying the Knot, in association with Tie the Knot Scotland, will host a curated programme of drop-in talks and Q&As covering various aspects of your wedding day - and importantly your wedding planning. With industry experts and trendsetters, pull up a pew and get set to make your wedding planning a breeze. Read onfor full details on each session over the weekend.
Then head over to our Advice and Inpsiration page for the recording of each session from our February show and make your wedding planning easy!
Let's Talk Tying the Knot will be hosted by the Tie the Knot Scotland team. As Scotland's number one wedding magazine, they are at the forefront of the Scottish wedding industry and have expertise across all aspects of wedding planning – so they're perfectly placed to help get the answers to all your burning questions from our guest speakers.

11.50 - 12.10 Bridal styling masterclass: from hanger to aisle with Rachel Snedden

You've found the dress, but these are the ways you can make it you. Our expert talks through how alterations, customisations and accessories can transform/elevate a gown and leads a mini live styling session.

Rachel Snedden: Having built her multi-award-winning bridal business from scratch almost 20 years ago, Rachel personally hand picks each dress in its couture collections from designers such as Sassi Holford, Suzanne Neville, Vivienne Westwood and Halfpenny London. Rachel has remained true to her original concept of providing the very best quality product and service, with the customer's happiness at the centre of every decision she makes. With her trusted reputation, Rachel knows what it takes to style your complete bridal look.

Rachel Snedden

Rachel Scott Couture stand 424B

12.40 -13.00 How to make your wedding stand out with Michelle Estall-Summers (Sat & Sun) & Oskar Gilchrist-Grodnicki (Sun Only)

With many couples experiencing a concentrated 'burst' of weddings over the course of a few years, it has become more and more important for them to offer their guests something 'different' from other nearly-weds in their friendship circles. Our experts suggest ways you might not have considered to bring the fun, add personality and make your wedding memorable, from bang-for-buck décor ideas to unexpected entertainment.

Oskar Gilchrist-Grodnicki: The Wedding Guru Oskar is a multi-award-winning wedding planner who has been planning, running and delivering over 600 weddings since 2009, anywhere from the Isle of Skye on the west coast to Dunbar on the east coast.

Oskar not only plans weddings, he's also a legally binding humanist wedding celebrant and an Associate Wedding Business Coach with Kelly Mortimer! Since 2021, Oskar has also co-directed the Edinburgh Wedding Directory with his husband.

Michelle Estall-Summers: Since launching in 2010, Wee Tait Events and Decor has gone from a delicatessen and cake shop to one of the leading event and decor firms in Greater Glasgow. Creating unforgettable memories is what Michelle and her team do best, providing decor styling and event planning to bring your wedding vision to life. Its prop portfolio includes chair covers, floral walls, centrepieces and LED dance floors, alongside bell tents, igloos, inflatable pubs and more.

Oskar Gilchrist-Grodnicki

The Wedding Guru & Sonas Hotels, stand 429A

Michelle Estall-Summers

Wee Tait Events and Décor stand 426D

13:20-13:40 Ceremonies: symbols of love with Humanist Society Scotland

If you've been to a Scottish wedding recently, chances are you'll have witnessed a handfasting – the symbolic 'tying the knot' with tartan or cords that's hugely popular with couples right now – but did you know there are many other gestures and rituals that can put personality into your ceremony? From jumping the broom to quaichs, and everything in between, we run down the options.

Humanist Society Scotland are the largest and longest standing provider of humanist ceremonies in Scotland. They have over 100 registered celebrants across Scotland, performing thousands of ceremonies each year. All of its ceremonies are covered by the Humanist Society Scotland promise.

*Please note Claire Digance and Linda Britton will be speaking on Saturday 8th October, and David Smith will be speaking on Sunday 9th October.

Claire Digance (aka Claire the Humanist) is younger than Chuck Norris, older than Kendall Jenner but the same height as both. She specialises in creating ceremonies filled with love, energy and extraordinary storytelling delivered with warmth, humour and a smattering of sarcasm and stupidity.

Linda Britton has been a celebrant with HSS for a long time, since 2005. She loves what she does and that comes across in the ceremonies she conducts. She enjoys meeting people, helping them plan their wedding ceremony, ensuring it reflects their personalities and seeing their happy, smiling faces on the day….

After 15 years as a wedding planner, David Smith trained with Humanist Society Scotland in 2017 to become one of its network of celebrants across Scotland creating truly personal ceremonies.

Claire Dignace

Humanist Society Scotland, Stand 431C

David Smith (photo by Mark Wild Photography)

Humanist Society Scotland, Stand 431C

Linda Britton

Humanist Society Scotland

14:15-14:35 Ready Steady Glow with Clarins

Demonstrating an intense radiance boosting mini treatment – a perfect pick-me-up for fatigued skin with instant results, showcasing three of our iconic Clarins favourites.

Sandra Coetzer will host the session each day. Sandra is a business manager and Brand Ambassador with Clarins for 23 years, with outstanding knowledge of skincare and Clarins products to suit all skin types and concerns.

On Saturday, Sandra will be joined by Stephanie Gardner, qualified Clarins Therapist and Beauty Coach Therapist. On Sunday, she will be joined by qualified make-up artist Chloe Murphy, who specialises in bridal.

Sandra Coetzer

Stephanie Gardner

Chloe Murphy

15:15-15:35 #nofilter: wedding photography and videography 101 with Martin McLellan and Jason Hunter.

We're all used to posing for Instagram Stories and Tik Tok, but your wedding photos and videos are going to be around a whole lot longer than 24 hours, so it pays to get them right. Two camera pros talk us through the importance of finding the right person to capture your wedding; what to expect on the day; key shots; timings and top tips for those who get nervous the moment a lens is pointed at them.

Martin McLellan is a Glasgow-based wedding photographer whose style is rooted in photojournalism, documenting the unaltered story of your wedding day. He aims to tell your story in the most relaxed, candid, honest and authentic way and to accurately capture you and your partner's personalities. He blends in unobtrusively, capturing small moments and interactions throughout the big day. He loves to work with couples that see their wedding photos as an investment and really want to get creative to help make incredible memories.

Jason Hunter founded Afterglow Wedding Films, the Glasgow based alternative wedding videography option for couples looking to capture the messier, fun filled, party vibe from their wedding day. Jason has over 12 years' experience in the industry, having worked with some of the most established videographers in the region before launching his own business back in 2018. His wedding clips have amassed over 55 million views online focussing on the light-hearted and hilarious parts of your wedding day.

Jason Hunter

Afterglow Wedding Films stand 412C

Martin McLellan

Martin McLellan Photography