Stand Number: 404C
Accessories Jewellery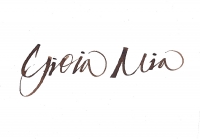 Since 2004, Gioia Mia has gained an enviable reputation as one of the foremost designer-makers of bespoke bridal jewellery and accessories. Working from a city-centre studio, tiaras, headbands, haircombs, hairpins, necklaces, earrings and bracelets are all designed and handmade with exquisite craftsmanship. Pieces are made using only the finest materials: lustrous freshwater pearls; sparkling Swarovski crystals and rhinestones; vintage and contemporary glass; gemstones; and a wide range of metals (including sterling silver). The colour palette is varied: barely-there crystal, classic whites and ivories; sophisticated combinations of nude and pastels; dramatic statements in bolder shades. The defining characteristic of Gioia Mia jewellery and accessories is the instinctive understanding of every customer's style, resulting in subtle and elegant pieces which enhance the beauty of each bride. Everything is beautifully gift wrapped. Perfect for a bride - or as a gift for a bridesmaid! Featured: Love My Dress, Whimsical Wonderland Weddings, Ruffled Blog, Burnett's Boards, Rock and Roll Bride, Way Out Wedding, We Fell In Love. The Scottish Wedding Directory, To Have and To Hold, The Best Scottish Weddings, i-on Glasgow. Make an appointment to come to the studio and try on some pieces, or have a chat about your own piece. Daytime, evening weekend appointments.
Fantastic show offer
Enter the draw at the Gioia Mia stand for the chance to win a £50 voucher. Your voucher can be used for jewellery and/or accessories for yourself or for your maids. Join the mailing list to receive news of future special offers, competitions and events.
New from Gioia Mia
Gioia Mia veils. I am delighted to be making veils. Every veil is made to each bride's specification (including the material, colour, length, decoration and lace ornamentation).
Contact Gioia Mia
Studio 12, Many Studios
3 Ross Street
Glasgow
G1 5AR
07879 614 366