Posted: 30th Aug
Wedding trends and styles are constantly changing - it's why we look back to our parents' photo albums through muffled giggles or with horrified gasps.
Many loved-up couples throughout Scotland are ditching tradition and timeless classics to incorporate unique, forward-thinking ideas into their big days.
Here at The Scottish Wedding Show, we think every wedding is beautiful and we love the breadth of diverse styles up and down the country. So whether you like a classic vibe or to push things outside-the-box, keep a look out for these latest trends shaking up the wedding industry this season.
Combat that wedding waste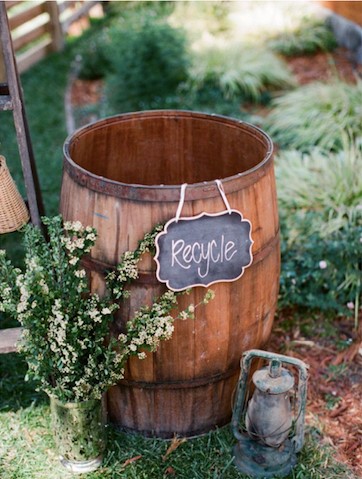 A new movement is beckoning, inspired by Princess Eugenie and her eco-friendly wedding earlier this year, one that aims to crack down on the wastefulness of our big days.
It's easy to get swept up in the madness of planning and excitement. From decorations with a one-day life span, late-night cheeseboards for drunken guests that end up in the bin, to cross-continent flights across the globe, our weddings can quickly become the opposite of eco-friendly.
So, brides and grooms are taking control with e-invites, organic or second-hand dresses and plastic-free events. This is much more than a trend and something we can definitely get on board with. Not only is it better for our planet, but often for our bank balances too.
Organic and local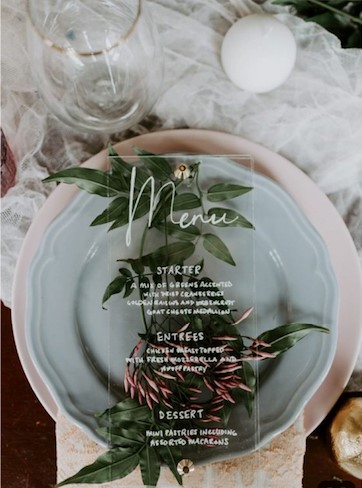 Following on this wave of sustainability, wedding menus are increasingly focusing on organic, local, and seasonal produce. Farm-to-fork concepts are very on trend as couples put more thought into where their meal comes from and the environmental impact it has. Scottish couples are incredibly lucky to be surrounded by world-class beef, salmon, and of course haggis. This is also a chance to support local businesses – yes!
Moody colours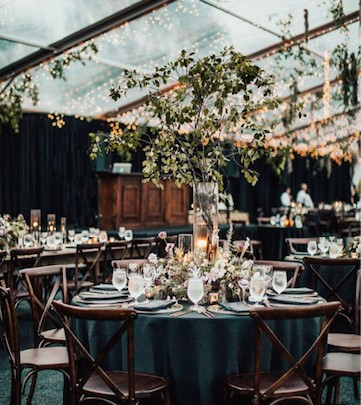 Couples are delving into moody hues and vampy shades to shake up wedding colour palettes as we know them. Instead of blushes and romantic pastels, couples are opting for deep purples, oxblood reds and squid-ink blues to give their big days an edgy, contemporary vibe.
No longer are these tones reserved for the cooler months, tastes are evolving and couples are flaunting these bolder colours in spring and summer too. It seems like seasonal-driven colour schemes are over – and we are loving the freedom.
Unusual venues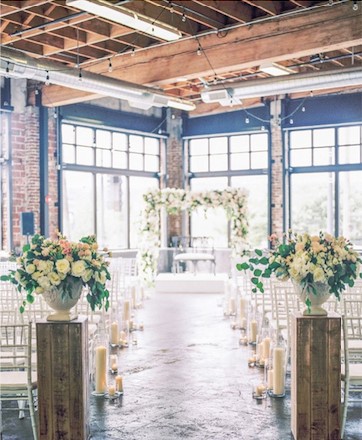 Romantic barns adorned with fairy lights and floral-draped churches have ruled the venue scene for weddings the past few years (and we can totally see why!)
Now however, unexpected, industrial-style buildings and breweries are becoming increasingly popular. Just look at Influencers Jamie Genevieve and Jack McCann who held their Scottish reception in Glasgow's BAad – the old-market place in the historical Barras area of Glasgow. It's now a super stylish hub of community and beautiful wedding venue. Combine these industrial spaces with rustic finishes for a totally dreamy look.
The practical bride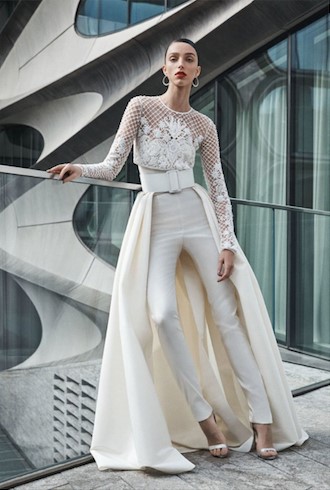 Bridal Fashion Week saw jumpsuits, suits and stunning dresses with pockets walk down the runway. Many brides are placing more importance on practicality and comfortability than ever before. Search engine Lyst saw searches for white suits go up 43% in the first three months of 2019. Women now have more choice than ever on what to wear for their big day and we think this is brilliant – no longer is bridal fashion confined to traditional views on what a bride 'should' look like.
Big sleeves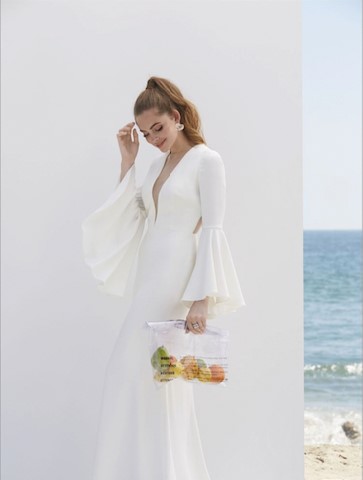 Statement sleeves are one of this season's most out-there trends, and we are here for it. From structured shoulders to billowing and floaty sleeves, this sophisticated look is going to be the bridal trend over the next few years. No longer reserved for royal weddings, this is an eye-catching and fashion-forward statement. Look out for feathers and intricate beading, elongating and drawing attention to the arms.
The two-dress wedding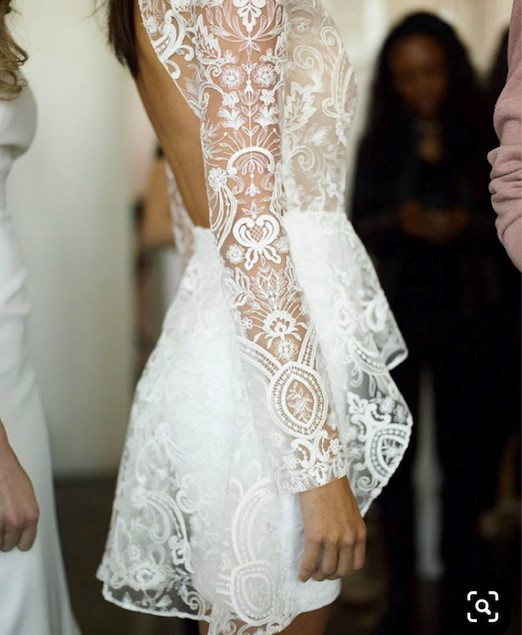 Many brides now have two wedding dresses, so they can change up their looks after the service going into the reception. It's popular to choose a formal dress for during the day and a more glam alternative to switch into at night time when the party starts.
This is a great option for those who can't decide between two styles, or would prefer something that's easier to dance and celebrate in throughout the night, without worrying about trains getting tangled or the bottom of the dress getting dirty.
What do you think - is this a fun way for brides to feel special or an extravagance gone too far?
Stretching petals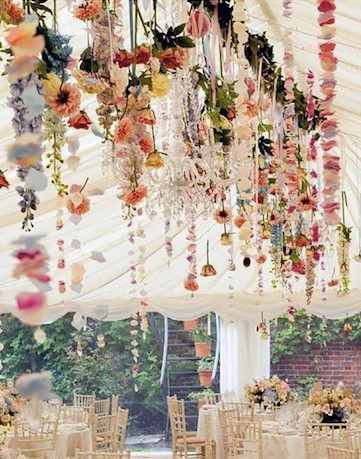 We are obsessed with this trend here at The Scottish Wedding Show. Vertical, flowing arrangements are so elegant and sophisticated.
Having a tall, hanging arrangement has the same wow factor and statement look as more traditional sprays, but costs so much less given less flowers are needed to create depth. This is a great money saving trend that doesn't compromise on visual appeal and spectacle, but won't break the bank.
Lighting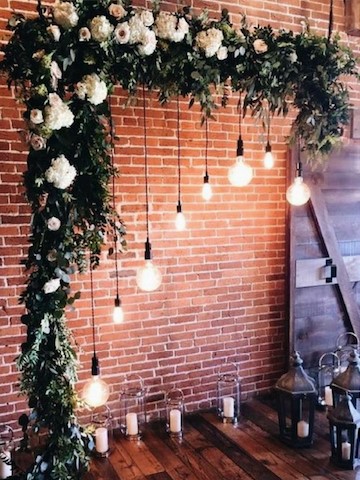 Weddings up and down the country are embracing unusual and exciting lighting – from statement bulbs and huge lanterns to super trendy neon lights. Having meaningful lyrics or special words sprawled in cool neon handwriting is personal and effortlessly chic. Here are The Scottish Wedding Show, we reckon that this will be THE trend over the next year. Choosing the perfect lighting adds a romantic and warm atmosphere to big days, creating the right vibe and backdrop for celebrations.
Entertainment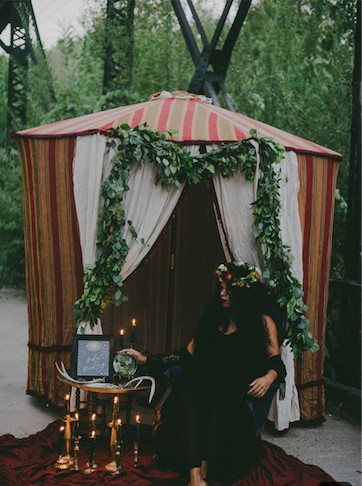 Photo-booths bursting with silly props and candy carts have well and truly seen their day. Couples are now looking for more exciting and novel ways to entertain guests and make their wedding stand out that little bit more. There's been a rise in tarot readers, caricature artists and even jugglers to bring a little touch of magic to weddings.
Have you been inspired by any of these trends? Join in the conversation and let us know @ScotWeddingShow