Posted: 30th Sep
Couple Q+A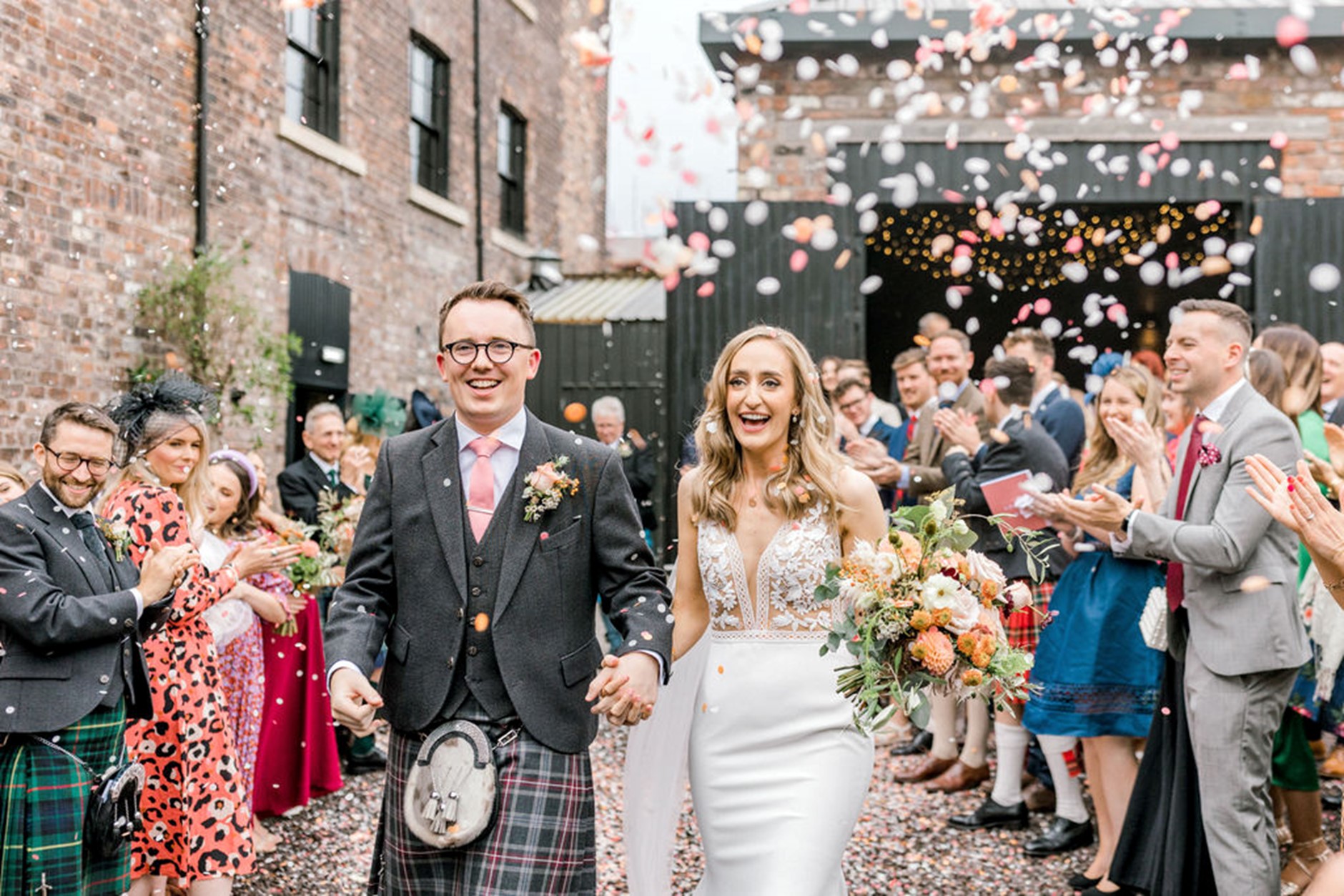 Photo credit to – The Gibsons
We caught up with a couple, Emma and Paddy, who had their ceremony this year to talk about all things wedding! We discussed the details of their wedding including their favourite parts and what they would have done differently, before they shared some advice on how to prepare for your big day. If you are planning your wedding, come along to The Scottish Wedding Show for inspiration.
Where did you get married?
The Engine Works, Glasgow
How long did it take you to plan your wedding?
We got engaged in August 2020 and have been planning since then. We saw the venue in September 2020 and booked it shortly after. The planning took a bit of a backseat when we had a baby in October 2021! We picked it up again in spring this year and got married in September.
What did you find were the pros and cons to that sort of location?
The venue is DIY, but it isn't rustic like a barn. It's industrial and very modern and slick. It's massive though, so it takes a lot of work to really make it your own. We didn't want a church or a hotel function suite, so the Engine Works – in Glasgow where we live, and something we could customise – is exactly what we wanted.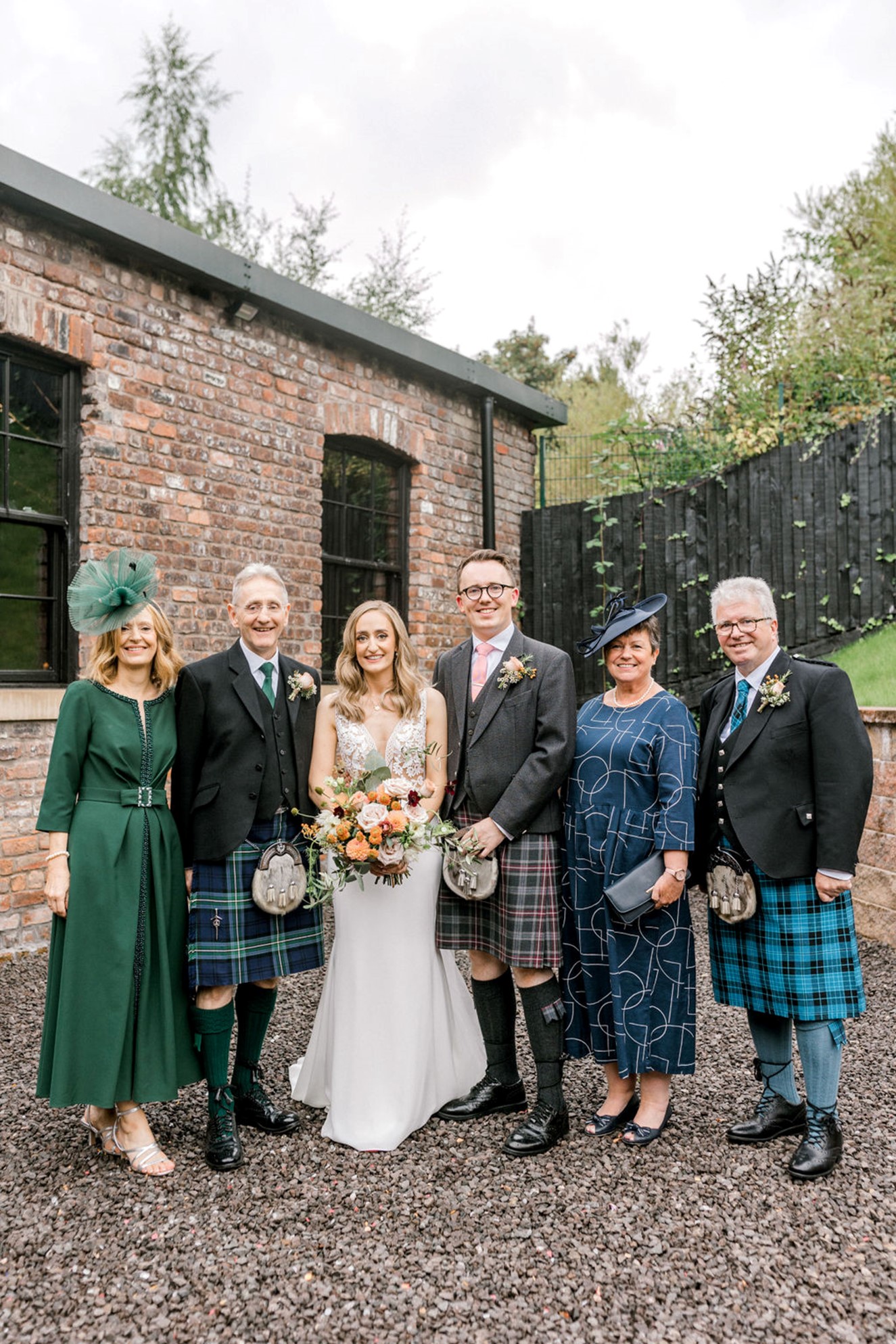 Photo credit to – The Gibsons
Mother of the bride outfit from Catwalk
What suppliers did you use for your wedding?
Venue and bar – the Engine Works
Photography – The Gibsons
Styling, furniture and Stationery – Gloam
Catering – Regis
Video – Sole Productions
Flowers – Blooms Glasgow
Wedding dress – Mikaella Bridal (bought from Olive Jones Bridal)
Veil – Olive Jones Bridal
Bride shoes - Carvella
Bridesmaid dresses – Rewritten
Cake – CakesbyCullen
Lighting and trestle tables – Make Believe Events
Groom's kilt outfit – MacGregor MacDuff
Hair – Megan Lindsay Bridal Hair
Make up – Danielle Dickson Make up
Mother of the bride outfit – Catwalk, Falkirk
Band – Brotherman
Confetti – Proper Confetti
Engagement and wedding rings – James Porter & Son
Flowergirl dresses – Monsoon Baby
Wedding Nanny – Tilly-rose bespoke nanny service
What part of the day were you most looking forward to?
The party! We couldn't have an engagement party because of covid lockdowns and we had a baby in 2021, so this was the first time we had been able to party with a lot of our family and friends in what felt like a really long time.
What part of the day were you most worried about and how did it end up going?
Whether our 11 month old daughter (and flower girl) would manage to sit during the ceremony. She's crawling and likes to be on the move at all times! We shouldn't have worried – she was fascinated with the service, especially the violins and guitar being played during the signing of the register, and sat happily with Hollie (our wonderful nanny) for the service.
Looking back on your wedding day now, is there anything you wish you had known beforehand?
That personalised PJs and robes for the "prep" are not important. I spent ages searching for these and in the end my bridesmaids had their robes on for about 30 seconds for a photo.
Was there anything you had too much of/not enough of?
We had loads of confetti, which our photographers said was great. We'd ordered more than we thought we would need and it worked out really well for the pics.
Was there anything you were stressing about beforehand that turned out to be not worth stressing about on the day?
The venue set up. Although we'd agreed concept designs, the first time we saw the set up was when we arrived to get married – and it was absolutely incredible. The styling exceeded our expectations in every way. Our stylists and florist did a beautiful job. There's no way we could have replicated it on our own.
What was your favourite moment?
Paddy – My favourite moment was seeing Emma for the first time. She looked incredible and I struggled to keep it together.
Emma – I have lots of favourite moments, but for me, it was saying our vows during the ceremony. It felt like a long time coming!
What advice would you give to other couples planning their wedding?
If you have a baby, then get a wedding nanny. Our nanny was, without a doubt, the best thing we spent our money on (and that says a lot as we were delighted with all of our suppliers).
For more wedding inspiration, get your tickets to the Scottish Wedding Show, taking place from 8-9 October 2022 at the SEC Glasgow, now! Buy tickets here and follow the Scottish Wedding Show on Facebook, Instagram and Twitter.